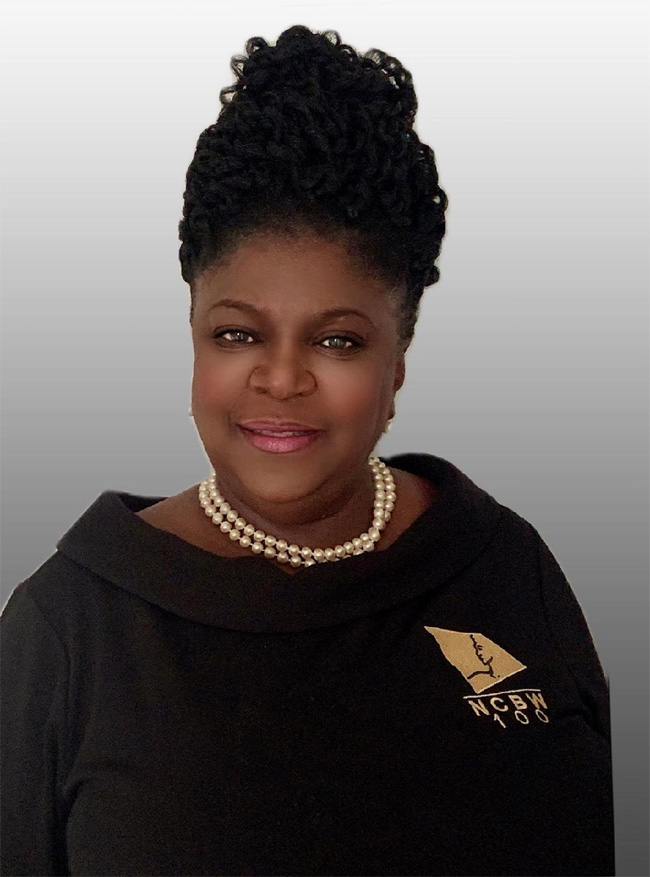 Dear Members and Friends,
I am deeply honored to serve as the 10th President of The National Coalition of 100 Black Women (NCBW), Inc. Bergen/Passaic Chapter. First, I want to acknowledge the leadership provided by President Ryner and last year's board. This is an exciting time for the new class and me as we begin a new day after the aberrant challenges of the past two years.
The NCBW Bergen/Passaic Chapter was chartered on September 21, 1986, by member Mary Ann Miller (affectionately known as M.A.M.), who passed on to Glory in 2021. However, we continue to celebrate her legacy, as well as those of our past presidents, of unwavering focus on the work that needed to be done. Today, we fight for social equality with unprecedented injustices surrounding our Black women and girls. The guiding principle for this Chapter remains to bring about change in the areas outlined in our mission— by advocating for Black Women and girls and promoting leadership development and gender equity in health, education, and economic empowerment.
As a trusted leader passionate community advocate, I will collaborate with our community partners and supporters to uphold the core values exemplified by our "Model" chapter. Our priorities over the next two years are to:
Extend our visibility in the Bergen and Passaic Areas
Increase awareness of public policy and legislation supporting advocacy agendas
Empower individuals in Entrepreneurship to achieve financial freedom
Advocate to eliminate the racial gap in Black Generational Wealth in the State of N.J.
Support STEM and STEAM educational activities for our girls to prepare them for a bright future
Continue to raise awareness of health issues prevalent in our community, such as Childhood/Family Obesity, Metabolic Syndrome, Cancer Health Disparities, and HIV/AIDS
My personal goals will be:
To Build a Stronger and more Cohesive Chapter together
Increase our Membership by

32%

To fulfill the R.R.R. campaign strategy –Recruit, Reclaim, and Retain
To strengthen Leadership Development and Strategic Planning for all members
To succeed with L.O.V. E. (Leadership, Onward, Vision, Excellence)
As we strive for excellence, I thank you for your continued support of our programs, and on behalf of the Bergen/Passaic chapter, we continue to forge pathways for the underrepresented.
Peace and Blessings,
Gwenette Reese
President, National Coalition of 100 Black Women, Inc. Bergen/Passaic Chapter
PUBLIC ADVOCACY
Focusing on local, state and national political areas through voter education, registration and research.
HEALTH
The overall wellness of the African-American Woman and her family is our concern. Knowledge is the key.
EDUCATION
Enhancing and encouraging leadership skills in young girls. Advocating in support of educational issues for black women of all ages.
ECONOMIC EMPOWERMENT
Promoting the economic stability and advancement of African American women through symposiums, workshops and community forums.
National Coalition of 100 Black Women, Inc. Bergen/Passaic Chapter News
Would you like to keep current with all of our initiatives and events? Please sign up to stay informed.